Which Class
is for You?
Baby Circle is our gentle and playful "infants only" class for 3 to 9 month olds! Discover new ways to play with your baby and music! Join us for wiggles, tickles, lap bounces, finger plays, dancing and lullabies along with a little discussion of the benefits of early music experiences. This class includes our Baby Circle CD, a double length compilation of just those songs and activities that will have your baby smiling and showing you how much they enjoy music and playing with you. This class is open to infants, who are approximately 3 to 9 months old at the beginning of the session, with their parents/caregivers. Call to schedule a FREE Trial Class.
Infants to Age 2 classes - Our Most Popular and Award Winning Class! Our mixed age classes create a family environment where each child learns from playing with you, watching other children and interacting with our teachers. Singing, instruments, finger plays, music play and more! A wonderful way to share the joys of music with your children!
Ages 2 - 4 classes - Our classes for 2 - 4 year olds include lots of singing, dancing, instruments and music fun! The older children are generally more active as well as physically and musically ready to do more advanced activities. Younger siblings are permitted in this class.
Ages 3- 5 classes - Ready for LOTS of singing and music play for big kids and their parents, grandparents or caregivers? We will sing and dance to our favorite Sally's songs and add many new instruments including glockenspiels and streamers. We will share new activities and musical toys, sing music storybooks together, as well as engage in dramatic play to our favorite songs. There's always a surprise just for our 3-5 year olds. Younger siblings are permitted in this class.
Infants to Age 5 classes - It's challenging to explain why such a large age range works in one class but it does (probably because there are only 10 children in a class and our teachers are very talented and knowledgeable). Everyone plays as one big family! Our Classes for infants to age 5, often scheduled on weekends and evening, are designed so working parents can attend. Whether your family includes one child or two or three, we're ready to make music with the whole family and our teachers will individualize activities based on the ages of the children present.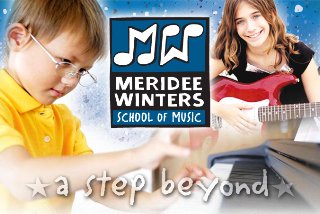 Ages 5-18+ classes - Sally highly recommends Meridee Winters School of Music to any student who has outgrown our program or has older siblings wishing to study an instrument. Since 1990, the Meridee Winters School of Music has been inspiring hundreds of Main Line families with creative, convenient, leading edge, in-home music lessons in; piano, acoustic guitar, electric guitar, violin, drums, bass and voice. Their groundbreaking curriculum, dynamic teachers and motivating performance opportunities open new worlds for the coolest teen rocker to the youngest aspiring pianist.
Click here to go to their website: http://www.mwschoolofmusic.com or
Call (610) 649-2782 for more information.
Which class can I bring ALL my kids to?
Choose a class based on the age of your OLDEST child. Younger siblings CAN enroll in the Ages 2 to 4 class and the Ages 3 to 5 Class. Our experience is that younger children adapt to the older class better than older children adapt to a younger class. If you have any questions about which class would be best for your family, please contact Sally at (610) 667-4333.
Be Prepared to Have Fun and Participate
Wear comfortable clothing as we sit on the floor. Music Circle is an interactive once-a-week time to sing and play with your child and give them 100 % of your attention.
Music Class is a great time to meet up with your friends and meet new friends. We respectfully ask that you use class time to play with your children and schedule before and after class time to catch up with your friends.